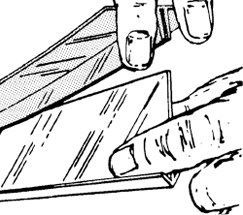 uperior Profiles was originally founded in 1944, under the name Superior Featherweight Tools Company. With the new name, Superior Profiles is now operated and managed by the fourth generation of the Maggio family.

42 years ago we invented a two-part control joint known throughout the concrete industry as Zip Strip. Zip Strip's consistent quality and immediate availability from over 300 concrete accessory distributors throughout the US, Mexico and Canada, has been our company trademark and flagship product since its inception.
Our former company and tool manufacturing division known to many as Superior Featherweight Tools Company was acquired by Custom Building Products, a leader in the ceramic flooring industry, in March of 2000.
As the former owner of Superior Featherweight Tools Company I have maintained ownership of the extrusion division of the company and continue to manufacture and offer to the concrete industry the original Zip Strip two-part control joint as well as many additional products. These added products are also related to your industry: Void cap, chamfer strips, keyways, expansion foam fillers with removable tops, backer rod and our most recent addition, rustication reveals for tilt up panels and precast construction... all of which can be detailed through product links on our website.
I would like to take this opportunity to thank all who have supported our efforts over the past 40 years. We recognized our responsibility to you our loyal customers and further our commitment to maintain the level of quality and service you have come to expect and deserve.


President